Search engine marketing
(SEM) is a form of internet marketing that involves the promotion of websites by increasing their visibility in search engine results pages (SERPs) through optimization and advertising. SEM may use search engine optimization (SEO), that adjusts or rewrites website content to achieve a higher ranking in search engine results pages or use pay per click listings. In 2012, North American advertisers spent US$19.51 billion on search engine marketing. The largest SEM vendors were Google AdWords and Bing Ads.
Our experienced PPC consultants help you make best use of PPC programs to optimize your search engine visibility and gain high quality score with minimum investment.
First, we do a detailed analysis and research on the keywords, search trends and competitor studies related to your business. Our research results stem from linguistic-technical understanding of your target user behaviour and search algorithms. Then, we modify and optimize your web page content with the right combination of keywords to increase your Click-Through-Rate (CTR). We periodically measure our campaigns and refine them for better results.
Our SEM Skill Set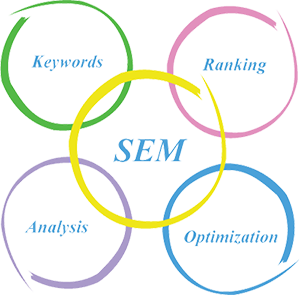 Identifying Geo targeted location & placement / position of Ads (Global, National or Local)
Identification and development of website landing pages
PPC Keywords Analysis – Picking up right keywords
Adjusting Bids (Based on the criteria Cost Per Conversion (CPC), Conversion Rate, Average Position, Bounce Rate)
Conversion Optimizer implementation and tracking (Includes Test Campaign implementation)
Reviewing & Pausing Ads
Creating new Ads (Based on Geo Location)
Negative Keywords Analysis
Pausing of Ads Under-Performing Keywords
Running Ad Performance Reports
Monitoring Conversion Rates
Ad Maintenance
Assistance with the setup of Google Analytics to track Paid Traffic