Offshore Development Centers
are essentially a dedicated pool of specialized engineering and programming resources that acts as virtual extensions of your own development teams. An Offshore Development Center (ODC) with its pool of specially trained resources, well designed infrastructure, proven and time tested processes is the most beneficial outsourcing delivery model with a compelling value proposition for businesses looking at IT Outsourcing.
Our ODC service provides a well managed, low risk path to set up your own offshore development center in India without upfront capital investment.
Here's how it works:
We jumpstart your operations using our ready infrastructure in India. We hire team members as per your specific requirements.
Understand immediate/longtem goals
Decide initial Team size, Scaling goals
Hire initial team & Begin Knowledgetransfer
Set up access to development resources via VPN or direct link
We set up processes for remote development in such a way that the offshore team integrates tightly with your core development team. After initial processes have been setup, we ramp up the team to the desired strength.
Set up processes for dual shore development
Deliver first few projects
Scale up to final team size
Benefits with our ODC approach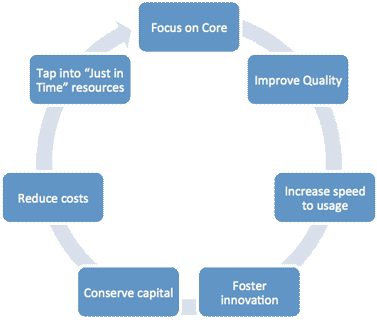 You don't have to invest any capital to get the offshore team started. At the same time, we ODC a team that integrates tightly with your own core development team and shares its goals and visions.
All members of the offshore development center are hired specifically as per your requirements. As opposed to outsourcing (where you would have to pick up members from a pool of available consultants), this approach ensures that all team members possess the required domain experience and have been screened for a team fit.
By using our ready facilities, you eliminate the time required for setting up your initial infrastructure and communication links.
Team members hired for your offshore development center are not moved to other customer teams. This ensures that you continue to get maximum productivity after the initial domain knowledge transfer.
We take full responsibility for setting up and running your offshore development center. Your executive team can continue to focus on things that matter most – exploring new revenue streams, serving customers and coming up with newer products.