WordPress is one of the most popular and easy to use blogging tool and Content Management System (CMS). Ease of use, speed and a great user experience are some of the key features that makes WordPress so popular
We have a team of experienced WordPress developers and designers who can implement your requirements of any service or solution in WordPress. We have the expertise to use the real power of WordPress. Apart from normal WordPress site development, we offer the following WordPress Services also.
Theme Development
Small business websites can benefit from having a customized WordPress theme rather than using free or pre-designed templates. Free themes have limited functionality, plus you don't want your site to look like another domain. We can retrofit any WordPress theme into a unique and sophisticated design for your domain.
Customization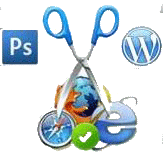 Whether you're looking to design from scratch or convert a PSD layout to a fully functional WordPress theme, you can trust us to deliver the results you need.
Responsive Web Design
The latest development in web design is multi-device capability, also known as responsive design. Our redesigned websites are fully compatible from desktop to mobile.
Search Engine Optimization
WordPress scales up your SEO efforts so you rank higher in search results and are more visible to your target audience. There's a lot that goes into building your search engine rankings.
Custom Plugin Development & Integration
We are wordpress developers who can build your next wordpress plugin! We have built multiple plugins for internal use and have even released plugins into the public domain. We can help you customize, iterate, implement, integrate, adapt or develop from scratch a wordpress plugin to suite your needs.
Ecommerce Solutions
Our WordPress development team easily transforms your website into a digital agora, complete with a shopping cart system, easy navigation, product detail and pricing assistance, shipping and merchant services.